This post is dedicated to my friends who lost one of their family members this week, their pug Chloe.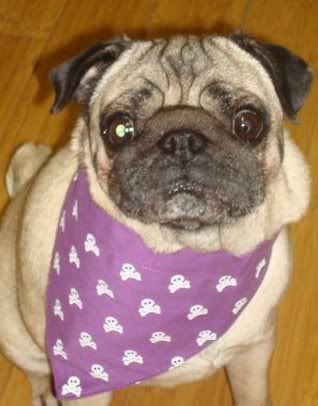 If you asked me a few years ago if I wanted a puppy, I would have replied, "Yeah,.. maybe... One day.."
My Husband however was determined to have a dog from the moment I met him. Vinny grew up in a family who loves dogs. Since Vinny was born the Panettiere House has always had a furry member in the family.
When Vinny left for the Marine Corp he left behind his 2 furry family members; Dallas and Bella, his Boxers. Vinny knew he would have a dog of his own one day.
I took a little more convincing to get a dog because I didn't grow up with any furry friends in my family. In April of 2009, I fell in love with the Movie
Marley and Me
. I was not thrilled about a Lab that chewed everything up but I was in love with the story and how much the dog became a part of their family. I was convinced at that moment that one day I would have a puppy.
On January 9th, as I walked through the door our eyes met. Her big brown eyes met mine and I was SOLD. I was drawn to her from the moment I met her. She was going to be my puppy. I looked back at Vinny,(I must have seemed like a little girl staring at the puppy in the Window)
I smiled from ear to ear and asked," Can we have her?"
Vinny saw the look on my face. There was no turning back.. She was
Ours
. We signed papers and took our new furry member home. I could see the smile on Vinny's face as we drove home that Saturday. He had a dog again.
We named our first furry family member
Penny
. At first I loved the name because I wanted to call her my
Pretty Penny
, a few weeks later I gave her a new nickname
Penny Poopers
.
The amazing thing that I have learned about dogs is they love you unconditionally no matter what. They don't care how much money you make or how big your house is. They love you each and every day just the same. When I get home from work no matter how good or bad my day has been my Penny Poopers greets me at the door with her little tail wagging back and forth. She reminds me that I am loved and whatever happened that day good or bad she loves me and is happy to see me.
I can't imagine our life without her. She is our family.
Our furry member Penny.